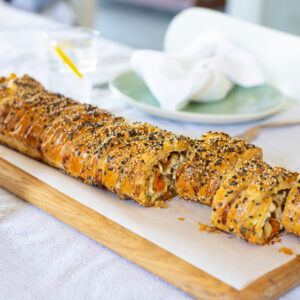 Braided Pastry Log
Ingredients
1

Roll

Paneton Flaky Pastry

This Braided Pastry Log was made using leftovers from a roast dinner. It's a really economical way to use up any food to prevent food wastage. In this recipe we used leftover roast chicken and vegetables bound together by a small amount of béchamel sauce. Add extra herbs or spices to boost the flavour.
Instructions
Preheat oven 200'. Line baking tray with baking paper.

Prepare pastry by slicing the sides into strips for braiding. the pastry will be lengthwise and approximately in thirds.

Chop all leftovers into bite sized pieces and put into a large bowl. Stir through béchamel and seasoning and mix well.

Spoon filling mix into the middle section of pastry and then start to braid pastry, encasing the filling. Once finished, brush with egg wash and bake for 40 minutes until pastry is golden and cooked through.