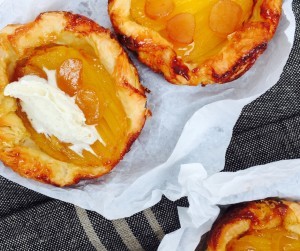 Mango and Ginger Tarte Tatin
Ingredients
2-4

ripe mangoes, peeled and sliced away from stone

4

Stem ginger balls, sliced

1

cup

sugar

1

Tbsp

water

50

g

butter

1

Paneton flaky pastry, thawed
Instructions
Cut mangoes into 1-inch-thick strips. Set aside.

Place sugar and water in a large cast-iron pan and cook over medium heat until sugar begins to caramelize, 8 to10 minutes. Add butter and stir to combine. Cook until caramel is golden brown, about 2 minutes more. Remove from heat. Place stem ginger slices and mango slices in pan in a circular pattern, overlapping slightly.

Preheat oven to 200 degrees.

Place pastry sheet on a floured surface and cut around pan allowing 2cm extra over-hang (do this before using the pan to cook caramel). Cut away any excess pastry. Place pastry round over mango/caramel. Tuck in or trim as needed.

Bake 15 minutes. Reduce heat to 175 degrees and continue baking 15 minutes longer, or until pastry is cooked golden brown. Let cool 1 hour. Place a plate or tray upside-down on top of the pan and flip both together. Tap pan to release tart. Slice into wedges and serve with a dollop of vanilla ice cream.